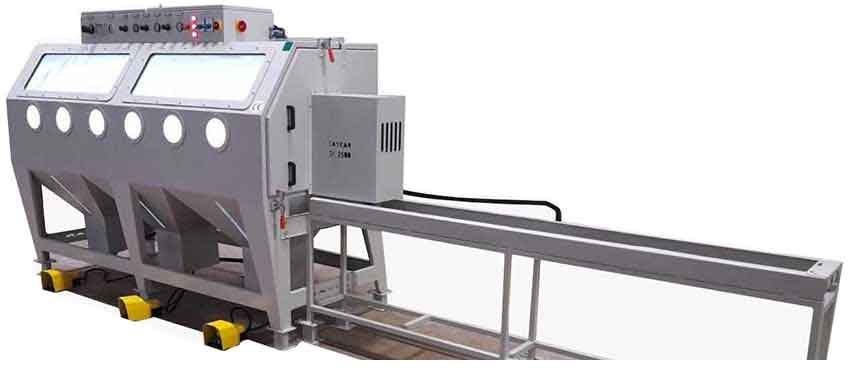 SK 2500 CYLINDER SANDBLASTING MACHINE ADVANTAGES
The Flour Roller, Flour Milling has an important role in the grinding stages of grains and sandblasting is applied to provide the desired adhesion on its surface. SK 2500 Cylinder Sandblasting Machine (Flour Milling Sandblasting Machine) is one of our machines that we have developed in line with customer demands and needs. Desired rough surface thanks to the sandblasting abrasives sprayed on the surface of the rolls with compressed air; hence, retention in grinding is achieved.
Sk 2500 Flour Milling Sandblasting Machine has been developed in a way that the internal parts can be adjusted according to the roll size and to provide homogenized (same on different surface points) surface dimensions. While the sandblasting process is continuing on one hand, unwanted, wasteful parts and end-of-life sandblasting granules are filtered by a powerful filter system (Jet Pulse - Automatic and self-cleaning filter system), an environmentally sensitive process is carried out. Machine operation continues uninterrupted until the sandblasting abrasive has completed its life or is replaced.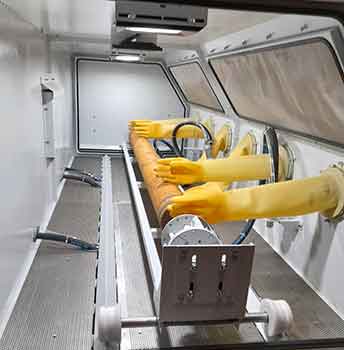 SK 2500 FLOUR MILLING SANDBLASTING MACHINE
Flour Milling Sandlasting Machine (SK 2500 Cylinder Sandblasting Machine); It is our own production and it is a high efficiency sandblasting machine like our other machines. The revolution speed, spray amount and spray pressure can be adjusted. All parameters can be changed by touch on the PLC screen. It has a high level of safety with Emergency Stop mechanism, Door Switches, Solenoid Valve and Specially Made Panel.
***Turkey's most preferred sandblasting machine manufacturer *** SAYKAR ***
CE